Home Staging is a concept born in the United States 30 years ago. It has established itself in Canada, in England and in Sweden, and the figures speak for themselves. Home Staging is even tax deductible in Sweden.
Home staging isn't costly, but cost effective. Home staging can be as simple as landscaping or choosing the right color scheme.
When agents try to differentiate their listings from others or make the homes they represent really pop, home staging has gone from "nice-to-have" to a "must-have" strategy in the selling process.
Remember, "The way you live in your home, and the way you market and sell your house are two different things."
Accredited Real Estate Agents are true Professionals trained under strict guidelines using proven Staging techniques developed for over 30 years. When you bring your home on the market and prepare your house for sale always hire an accredited Realtor because they are the true leaders in the Real Estate Industries.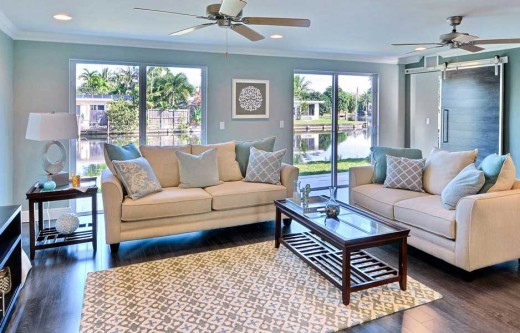 What goes into staging a home?
There are several steps to staging a home. I have an easy way to remember them by calling them the 7 C's of Staging:
Clean — Q-tip clean! You cannot have your house too clean!
Clutter-Free — You are not selling your things — you are selling your house!
Color — Make sure you use colors that sell the space.
Compromise — Invest your money as a home seller where it will produce its greatest return.
Creativity — Creativity in staging is all about using — and in some cases — rearranging the materials that are already in or around the home to create a totally new and welcoming "feel" within the house.
Commitment — The home owner really has to be committed to staging the home completely and also staying on top of the staging as they live their daily lives.
Communicate — Potential buyers experience the staged home as spacious, open, warm, clean, fresh, pleasant and inviting. That's the message that staging conveys. Buyers not only see the house as a place they could live in, they see it as a place they want to live in.
What are the biggest misperceptions about home staging?
Staging is lighting some candles and putting a pie in the oven
I've watched some home fix-up TV shows and I can do this myself
Staging is expensive
Staging is about renting a lot of high-end furniture and filling the house with accessories
Staging requires remodeling
Staging is about covering up the weaknesses of a property for sale
Staging is "fooling" the buyer into paying more money for the property than they should
Home Staging Helps to Sell Home For MoreDollar
What are the biggest misperceptions about home staging?
| Misperception About Home Staging | Reality About Home Staging |
| --- | --- |
| Staging is lighting some candles and putting a pie in the oven | Never light candles during a showing; it's a risk and a hazard to have open flames with a lot of people on the property that you or your agent can't watch all at once. |
| I've watched some home fix-up TV shows and I can do this myself | Accredited Realtors have experience as they will have staged more homes than an average consumer and they will know what works to sell homes and what doesn't in a market. |
| Staging is expensive | Staging is not about spending money but about using what you have to make the most of your space. |
| Staging is about renting a lot of high-end furniture and filling the house with accessories | Staging is NOT remodeling! Staging is using your things and your space in the most creative way possible without spending a lot of money. |
| Staging requires remodeling | Staging is NOT remodeling! Staging is using your things and your space in the most creative way possible without spending a lot of money. |
| Staging is about covering up the weaknesses of a property for sale | Staging does NOT cover up weaknesses in a property, in fact if anything it shows what is there. |
| Staging is "fooling" the buyer into paying more money for the property than they should | Staging is about creating the most interest in the home by presenting it in its best possible light. |